Are you born in August, then Peridot is your gem!
This beautiful green gem owes its name to the Arabic "faridat" which means "gem" and has always been associated with light. That is why the ancient Egyptians called peridot the "gemstone of the sun". It was also believed that wearing gold jewellery set with peridot would protect from "terrors of the night" and, when strung around the left arm with donkey hair, it would protect from evil spirits.

The earliest peridots were mined by the ancient Egyptians on the island of Zabargad, in the Red Sea. This island is now known as the St. John's island.

In medieval times peridot was often confused with the other green gem, the emerald. Even Cleopatra was believed to have a large emerald collection but these stones might have been peridot. Also, some beautiful green gems in the shrine of the Three Holy Kings in the Cathedral in Cologne, Germany, are in fact peridot and not emeralds although this was believed by the people for centuries!

The attractive yellowish green to greenish yellow colour of peridot is caused by the element iron, which is part of its chemical composition. Peridot is a silicate of iron and magnesium and often found in basalt, a volcanic rock. Peridot is a member of the mineral group olivine and is one of the oldest gems, formed deep inside the earth, some are even 4.5 billion years old and reached the earth by meteorites.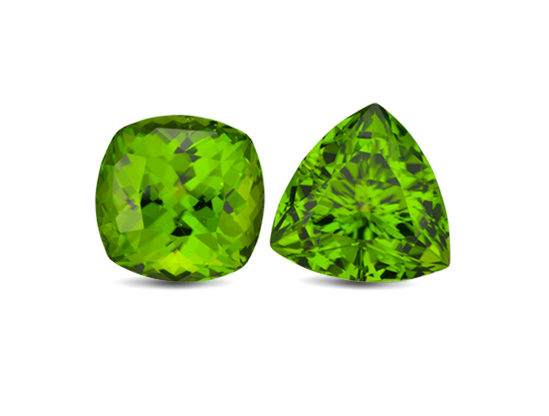 Peridot is not only the gem for the month of august, it also symbolizes the 15th anniversary.

The main source of Peridot is Arizona, other sources Myanmar(Burma) Vietnam, Mexico, Australia, Ethiopia, Norway, Sri Lanka, and the US state of New Mexico.