"The soul is placed in the body like a rough diamond, and must be polished, or the luster of it will never appear."

-Daniel Defoe (author of Robinson Crusoe)
Diamonds can only be cut and polished with other diamonds and only an experienced diamond cutter will meticulously study the structure of a rough diamond before he marks it for cutting. After the decision is made how the stone is going to be cut, he marks those areas with black ink.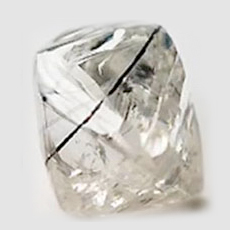 Because every rough diamond is unique, marking or planning is a crucial stage because whatever shape is chosen – round brilliant, princess, or emerald - there is no room for failure. Any wrong decision may result in shattering of the stone or weight and thus  loss of profit.  

An excellent proportioned brilliant cut diamond has 57 individual facets.